Mechanical Rides
Mechanical Ride Rentals in Boston, MA - Funtown Entertainment
Are you seeking a unique and exciting addition to your next party or event? Look no further than Funtown Entertainment's mechanical bull rentals in Boston, MA! Our state-of-the-art mechanical bulls are perfect for all ages and skill levels, providing hours of entertainment and thrills.
Our mechanical bulls are designed with safety in mind, featuring soft, inflatable padding and automatic shut-off sensors for a worry-free experience. Our trained operators will ensure that each rider is safely secured and guided through their ride. After the heart-pounding excitement of riding our Mechanical Bull, satisfy your appetite for adventure with our mouthwatering Fun Foods—cotton candy, fresh popcorn, hot dogs, pizza and more! Fuel up for another thrilling bull ride or refuel after conquering our inflatable obstacle courses. Delicious treats are as essential to summer celebrations as waterslides and bounce houses. An all-in-one entertainment experience you can only get from Funtown!
Whether you're hosting a corporate event, birthday party, or any other occasion, our mechanical bulls will surely be a hit with your guests. Contact Funtown Entertainment today to book your mechanical bull rental in Boston, MA, and take your event to the next level!
Mechanical Bull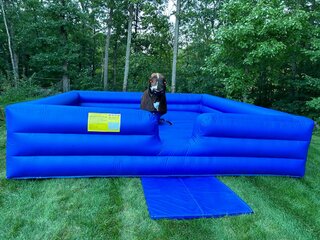 Mechanical Pumpkin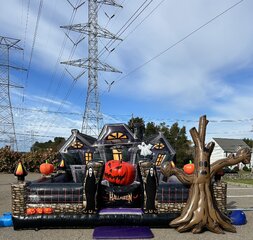 Mechanical Reindeer