Snowman & SnowWoman Snowfall Machines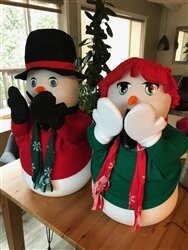 Actual Size: 27"
Outlets: 2
Description
Looking for a unique and fun way to add some winter wonderland magic to your next event? Look no further than our Snowman and SnowWoman Snow Machines rental! Our snow machines will create a beautiful and realistic snowfall effect, perfect for holiday parties, winter weddings, and any other event where you want to bring the magic of snow indoors.
Our Snowman and SnowWoman Snow Machines rental is easy to use and comes with everything you need to create a winter wonderland. Simply plug it in, add water and snow fluid, and watch as the snow falls gently from the machines. These machines are safe and non-toxic, so you can use it indoors without worry.
The snow produced by our Snowman and SnowWoman Snowfall Machines are light and fluffy, just like real snow. It's perfect for creating a snowman, snowman or snowball fight area, or for adding a touch of magic to your holiday decorations. You can adjust the snow output to create the perfect amount of snow for your event.

Both stand at 27 inches tall and weight about 15 lbs. The snowfall covers an area 15 feet to 20 feet, creating a large area for your event's winter wonderland experience.
Renting our Snowman Snow Machines is a great way to add some fun and excitement to your event without breaking the bank. Contact us today to learn more about our rental options and to reserve your Snowman and SnowWman Snow Machines rental for your next event!