Sno Cone supplies for 50 people - Bubble Gum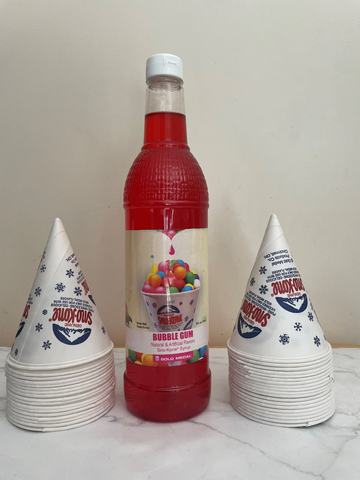 Description
Cool down your HOT guests with a frozen treat using this Sno-Cone machine. This is the choice ice shaver for your concession needs. Our Sno-Cone machine comes with 1 flavor of your pick from our available selection.
** Flavors may vary subject to availability
Flavors available:
STRAWBERRY
CHERRY
BUBBLEGUM
BLUE- RASPBERRY
Servings come in quantities of (50).
For example:
(100) servings, select 2 in your cart.
(150) servings, select 3 in your cart.
A summertime favorite, snow cones are a great way of cooling everyone down.
Kids just love these tasty treats and they can make a snow cone in all the colors of the rainbow.
**A bottle of syrup will do approximately 50 cones**
**A 25lb block of ice will make approximately 50 cones**