Giant Pong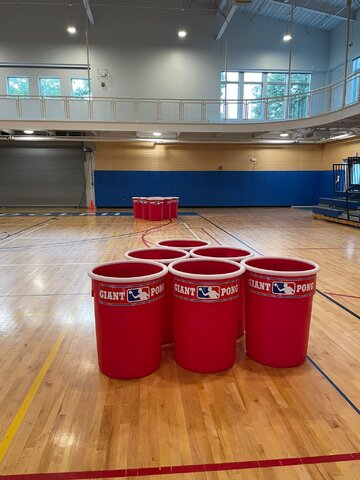 Setup Area: 30' x 20' x 15'
Actual Size: 25'L x 2'W x 3'H
Age Group: 7 & Up
Description
Giant Pong Game for rent is a super-sized version of the classic beer pong game. The table beer pong game is played with traditional RED SOLO cups. Our Giant Pong Game for rent uses giant "replicas" or the classic RED SOLO cups. To make it look like the original classic table Beer Pong Game.
To make the classic RED SOLO cups giant, we use large 44-gallon red trash cans modified to look just like the original RED SOLO cups. The balls are replaced with white volleyball to look like oversized "ping pong" balls. It is to maintain the appearance so you can play this game the same way as the classic table beer pong game. We at Video Amusement are always careful about wasting our precisions resources. To prevent waste of water, our 44-gallon buckets are filled with bags packed with shipping peanuts for quick setup and easy transportation. This game is designed to play in the park, beach, or even in a large office. This game guaranteed to be a hit!
More information about Giant Pong Game

:
The rules of the game are simple. The teams of opposing players take turns throwing the white ping pong balls. In our case, white volleyballs across the playing area to make it into the red buckets of the opposing team. Once the ball lands in the bucket, it is taken to the side, and the game continues. If both teams hit the buckets, the balls are rolled back. Both teams have the chance to throw the balls again. The team successfully hits all the opposing team's buckets and wins the game!