Toddler Zone
Toddler Zone at Funtown Entertainment: Fun and Safe Play for Your Little Ones
Are you looking for a safe and fun place for your toddlers to play? Look no further than Funtown Entertainment's Toddler Zone! Our indoor playground is designed for children ages 1-4, with soft play structures, foam mats, and age-appropriate toys. At Funtown Entertainment, safety is our top priority. Our Toddler Zone is fully padded and designed to prevent injuries while your little ones explore and play. Our trained staff members are always on hand to ensure a safe and enjoyable experience for you and your child.
While your littlest guests enjoy imaginative adventures tailored just for them in our Toddler Zone, bigger kids can unleash energy to spare, bouncing and sliding to their heart's content in our thrilling Bounce Houses— scaled-up inflatable attractions that bring out the kid in all of us! Funtown's Fall Fest offers seasonal joy for families and kids of all ages, with memories made and adventures shared. Experience the excitement of carnival life surrounded by autumn splendor at New England's premier Fall Festival, built for bonding and creating the moments that matter. Joy on a grand scale for all!
In addition to our play structures, we also offer a variety of activities that encourage imaginative play and socialization. From interactive games to storytime, your child will have a blast while developing essential skills. So come to Funtown Entertainment and let your toddlers blast in our Toddler Zone!
Lil' Kahuna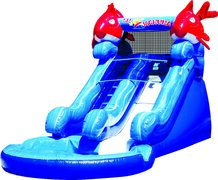 Animal Kingdom Toddler Bounce House Moonwalk