Misc. Equipment
Miscellaneous Equipment for Unforgettable Events in Boston MA
Are you seeking the perfect equipment to take your event to the next level? Funtown Entertainment has got you covered! Our Miscellaneous Equipment category offers a wide range of items to make your event unforgettable. Whether planning a corporate event, a wedding, or a birthday party, our Miscellaneous Equipment has everything you need to create a memorable experience. From photo booths to carnival games, we have it all. Our equipment is top-of-the-line and designed to provide hours of entertainment for all ages.
Take your summer celebration to the next level of fun with equipment from our Miscellaneous Equipment options and an outdoor movie experience on our giant Inflatable Movie Screens—delight guests of all ages by pairing the thrill of waterslides and obstacle courses with the nostalgia of drive-in movies! Funtown provides everything you need for an unforgettable epic party weekend under the sun and stars. Two types of summer magic combined for lifelong memories you can only experience in New England with us!
At Funtown Entertainment, we understand the importance of having the right equipment for your event. That's why we offer various options so that you can find the perfect fit for your specific needs. Our team is dedicated to providing exceptional service and ensuring your event succeeds. Contact us today to learn more about our Miscellaneous Equipment offerings and how we can help make your event one to remember!
Generator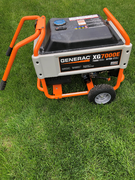 5 Gallon Gas Can