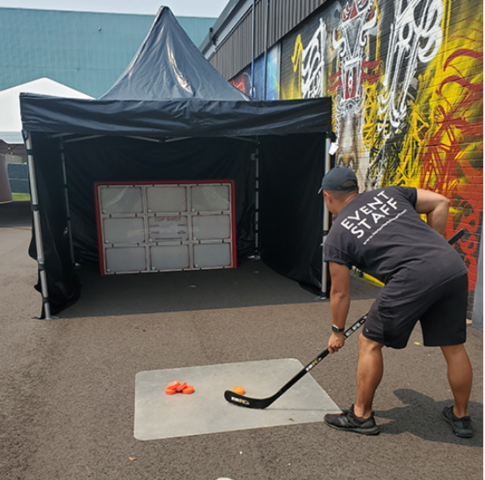 Actual Size: 15 x 13 x 11 ft
Outlets: 1 Circuit (110 Volt – 15 amps)
Description
The electronic hockey net is a great game for all hockey enthusiasts. The game gives the participants numerous gaming options from rapid fire, accuracy, tic tac toe, and many other fun and competitive options.
It pairs very well with our Skee puck. Also can be Branded!
- Face-Off
Target practice! Take your best shot. All nine targets light up, but how fast can you knock out each? Timer records to the nearest 1/100th of a second.
- Rapid Fire
One target will light up randomly, each lit target hit counts as a goal scored. Accuracy is key, as the light moves after every shot. Ten shots in thirty seconds.
- Tic/Tac/Toe
A hockey twist on a classic game. Two players square off in the traditional game of X's and O's. First shooter is a white light, second shooter a red light.